Come join our Space Talk and learn more about our events!
AUTM UPDATES Hola and Hello!
We are going places! We are very excited about all the forthcoming events that we have planned. Some of these initiatives have already begun. First, Austin Urban Technology Movement, AUTMHQ, in collaboration with Measure and the City of Austin, invites all the community members, to participate in our digital equity focus groups to discuss your internet access experiences, inform us on programs and services that can bridge internet access gaps, and hear about solutions that have worked for our community members and their families. We are looking for parents, students, Spanish-speaking community members, and those without internet. Scroll down for more out-of-this-world adventures! 👇 Last week, we attended the Workforce Solutions networking and job fair at the Austin Central Library. It was an excellent networking opportunity, and we were proud to be there as community partners. Furthermore, we are already organizing AUTMite Day 2021 to honor all of our program participants that make AUTMHQ's work so valuable. In this topic, we are also planning for the 12 Days of AUTM by AUTMHQ. Our events are the sine qua non of our mission this year! Lastly, and, as you know, AUTMHQ's rebranding is still in progress, and we are pleased to announce to you that we have signed our leasing agreement for our new premises. Stay tuned for detailed details! Share your comments on our social media pages; remember to look us up as @autmhq. Paty Sesma Vice President of Marketing and Communications
TECH NEWS
AUTM TALKS by AUTMHQ: The Space Race Runs Through Texas
November 30, 2021, at 6 p.m. CST
Join us for an out-of-this-world talk where we'll be discussing rockets and atrtifacts built in Texas, lunar landers, satellites, and Mars housing. Register for our next #autmhqtalks with our friends, Austin Inno's Brent Wistrom, Dallas Biz Journal's Kevin Cummings, and Houston Inno's Chris Matthews, who authored "The Space Race Runs Through Texas." ________________________ The full article, "The Space Race Runs Through Texas," may be found here.
👉 Register now →
AUTM INSPIRATION
Diversifying the Tech Industry:  A Veteran Reimagines His Home and Career
Published November 9, 2021, by National Instruments, proud partner of AUTMHQ After 18 years working as a pharmacy technician, James Fladger had almost everything he needed to change careers. He had intelligence, grit, and determination, and an online Google IT Support Certificate course in his sights. The major thing missing? Reliable Wi-Fi access.
"I was living in my car with my dog at the time [November 2020]. There's COVID and everything's locked down—gyms, coffee shops. I'm here trying to change my life and there's nowhere to go inside and plug in or get a signal," said Fladger.
Fladger's old friend, Clifford Dukes, gave him a mobile hotspot to connect him to the Internet—and new career opportunities. Dukes is the chief operating officer at Austin Urban Technology Movement (AUTMHQ), an Austin, Texas-based nonprofit whose mission is to bridge the gap between the Black and Hispanic communities and the technology industry through job placement, career development, and networking opportunities.
AUTM EVENTS
Focus Group: Get $100 when you tell us about your internet access experiences
Austin Urban Technology Movement together with Measure is inviting all community members to take part in an exciting virtual focus group about digital equity and earn $100 if you're eligible! We'd want to hear about your internet access experiences and solutions that have been helpful for you and your family. We are calling everyone who does not have internet access to participate – including students, parents, Africans, Spanish-speaking community members, and refugees. You'll need access to internet and an internet-enabled device with a video camera and microphone. If you do not have a device with internet access, you can join by phone. English registration form here. Registro en Español aquí.
👉 Register soon →
TECH NEWS
Two Years in the Making, the Digital Equity Act Passes in Congress
Press Contact: Yvette Scorse, communications director, yvette@digitalinclusion.org Today, the Infrastructure Expansion Act of 2021 passed in the House, meaning the biggest federal investment ever in digital equity.
"This moment is unprecedented," said Angela Siefer, executive director of the National Digital Inclusion Alliance. "Not only is the funding an incredible down payment on digital equity, it is an acknowledgment of two decades of grassroots efforts to bridge the digital divide. NDIA and our community will make the most of this moment."
The following digital inclusion elements are included in the new Infrastructure Act: • Digital Equity Act: $2.75 billion over 5 years • Broadband Grants for States, DC, Puerto Rico & Territories: $42.5 billion • Broadband Benefit: $14.2 billion • Tribal Connectivity Program: $2 billion • Middle Mile Connectivity: $1 billion • "Digital Discrimination" by internet service providers is prohibited • Clear labeling of consumer broadband service offerings and prices ________________________ Sign our petition: Texas FREE Technology For All at change.org. We are 376 signatures away from our goal!
👉 Read more →
TECH NEWS
Austin Chamber Of Commerce - Blog: Austin Job Postings Report October 2021
Posted by Patch from the Austin Chamber of Commerce Blog
√ There were about 92,000 Available Job Postings during the October 2021 monthly reporting period, an increase of 1,500 postings compared to the previous month. There were 30,200 New (first-time) Job Postings, a decrease of 2,200 postings when compared to the previous month. New (first-time) Job Postings in October 2021 represented 33 percent of all Available Job Postings. Employers are posting less New (first-time) Job Postings. √ 15 percent or 13,500 of all Available Job Postings during the October 2021 reporting period fell under the Management Occupations and 14 percent fell under Computer and Mathematical Occupations, showing a strong demand for experienced or senior talent and also tech talent in our region. ________________________ Click here to discover the greatest jobs in tech! AUTMHQ will train you for the position of your choice.
👉 Read more →
TECH NEWS
PepsiCo Foundation Expands National Community College Program For Black And Hispanic Students
"Black and Hispanic students are facing an unprecedented educational crisis as enrollment rates continue to decline and dropout rates increase," said C.D. Glin, Global Head of Philanthropy, PepsiCo… PepsiCo and The PepsiCo Foundation have announced a program expansion for efforts supporting Black and Hispanic students enrolled at community colleges. According to a press release, "the program aims to close the education and achievement gap for historically excluded communities by providing additional resources such as professional mentoring, financial assistance for eligible living costs such as childcare and transportation, and financial literacy courses."
The Community College Program was launched in March 2021 in response to the COVID-19 pandemic which made living and education expenses for already struggling students even harder. It began with Started with City Colleges of Chicago, Westchester Community College, Houston Community College, and Dallas College. ________________________ Needs Assessment Form: Austin Urban Technology Movement (AUTMHQ) is expanding access to the internet, devices, and upskilling opportunities in tech for our communities most in need. Please complete this assessment so we can connect you with the appropriate resources.
👉 Read more →
TX NEWS
Opinion: Texas' economy can't work without immigrant workers
By Bill Lucia and Stan Marek The first-year construction giant Marek Brothers sponsored an internship with Texas high school students, 18 of the 25 student participants graduated and had a $35,000 a year job waiting for them. They went to their high school classes until noon and then were bussed to a construction lab that Marek funded at a community college. But it was only when the program ended that eight of these eighteen talented students learned they couldn't accept the jobs their hard work had earned because they were undocumented immigrants, brought to the U.S. as children. Only ten of the 25 open job positions were filled.
This cautionary tale demonstrates the barriers our nation's failing immigration policy places on potential workers and on well-meaning employers striving to train and staff their companies. If Congress doesn't move swiftly to pass legal status for our nation's undocumented immigrants, it's only going to get worse.
👉 Read more →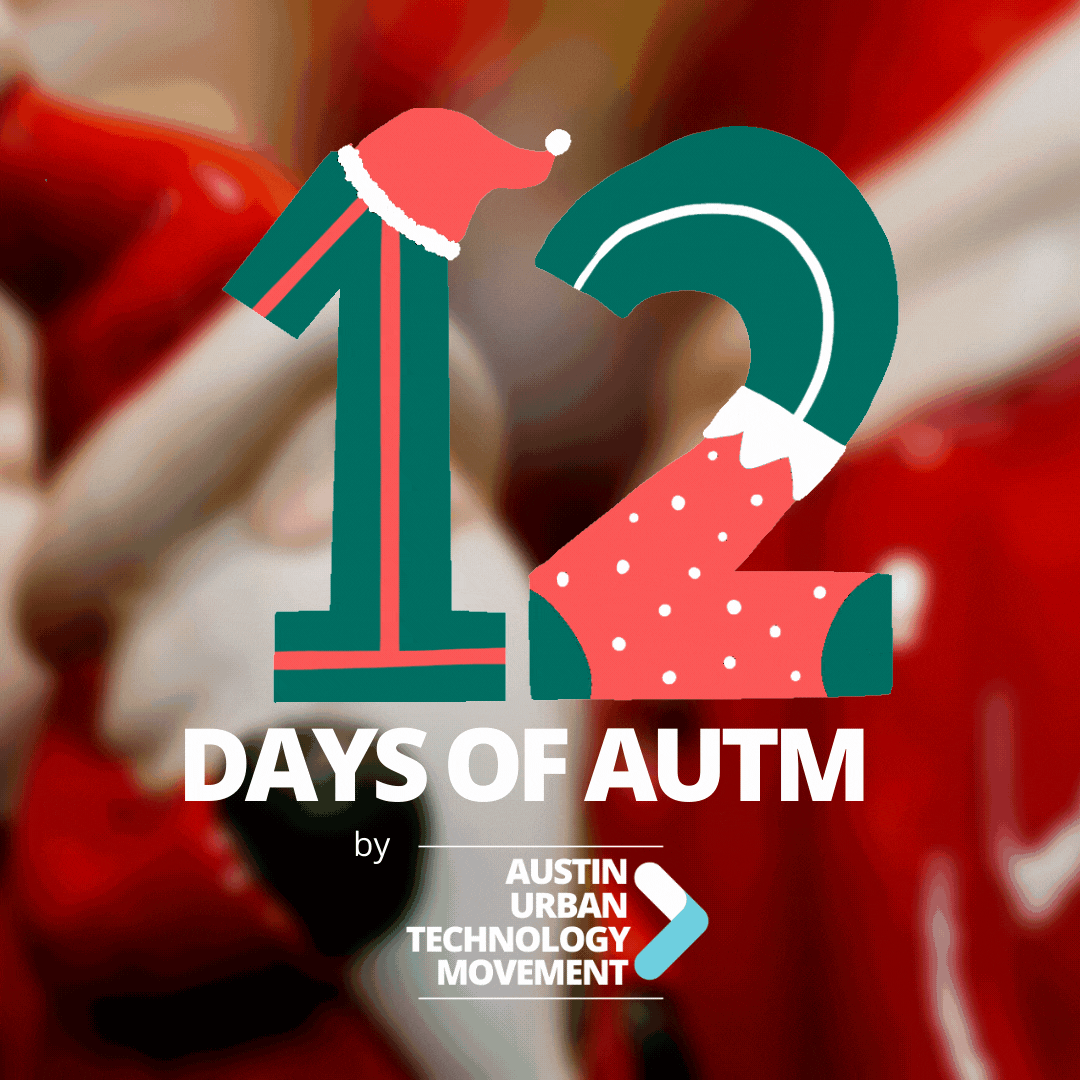 AUTM EVENTS
12 Days of AUTM by AUTMHQ!
We might be getting a little too festive a little too soon, but trust us when we say it's worth it. Stay tuned! 🎅
👉 AUTM Events →
BONUS NEWS
Austin FC's Matt Besler retires, ending 13-year MLS career By Associated Press
AUSTIN, Texas (AP) — Austin FC and former U.S. men's national team defender and Matt Besler, who spent 13 seasons in Major League Soccer and was a five-time All-Star, announced his retirement Wednesday.
He was brought in to play for the Live Oaks to help provide a veteran voice and much-needed leadership for the expansion club. He played 20 matches for Austin, starting all of them, before suffering a concussion against Vancouver in early September. He missed the final two months of the season.
👉 Read more →
@AUTMHQ
Copyright © 2021 Austin Urban Technology Movement, All rights reserved.